F&B's Essential Guide to Buying the Perfect Engagement Ring
Life inevitably presents us with choices and sometimes these choices are better off going about alone. However, when one is faced with the often difficult decision to gift the perfect gift for either yourself or a loved one, worthy in all aspects, receiving a little help is completely reasonable. After all, it is always best to receive second opinions before such imperative, life-changing moments occur. Fortunately, our job as your jewelry consultant, should you desire to gift the gift of jewelry, is to make your job easier. Thus, our essential guide to buying the perfect engagement ring for you was born.
Step 1_ Choosing Your Gemstone(s)
Moissanite, Amora Gem, Diamond, Morganite, Sapphire, Topaz, Aquamarine, Amethyst, Ruby, Tanzanite, Tourmaline (and more) are excellent options among the many conflict-free and/or fair-trade gems in the market for you to choose from. Although the classic engagement ring consists of a diamond as center stone because of its unbeatable durability in hardness, incredible rarity, and long history as a symbol of "forever," your S.O. may be interested in other unique gems more complimenting to their personal preferences. If in the case she is partial towards the alternative and you are unsure where to start, we have written material linked below to assist you in narrowing down your choices.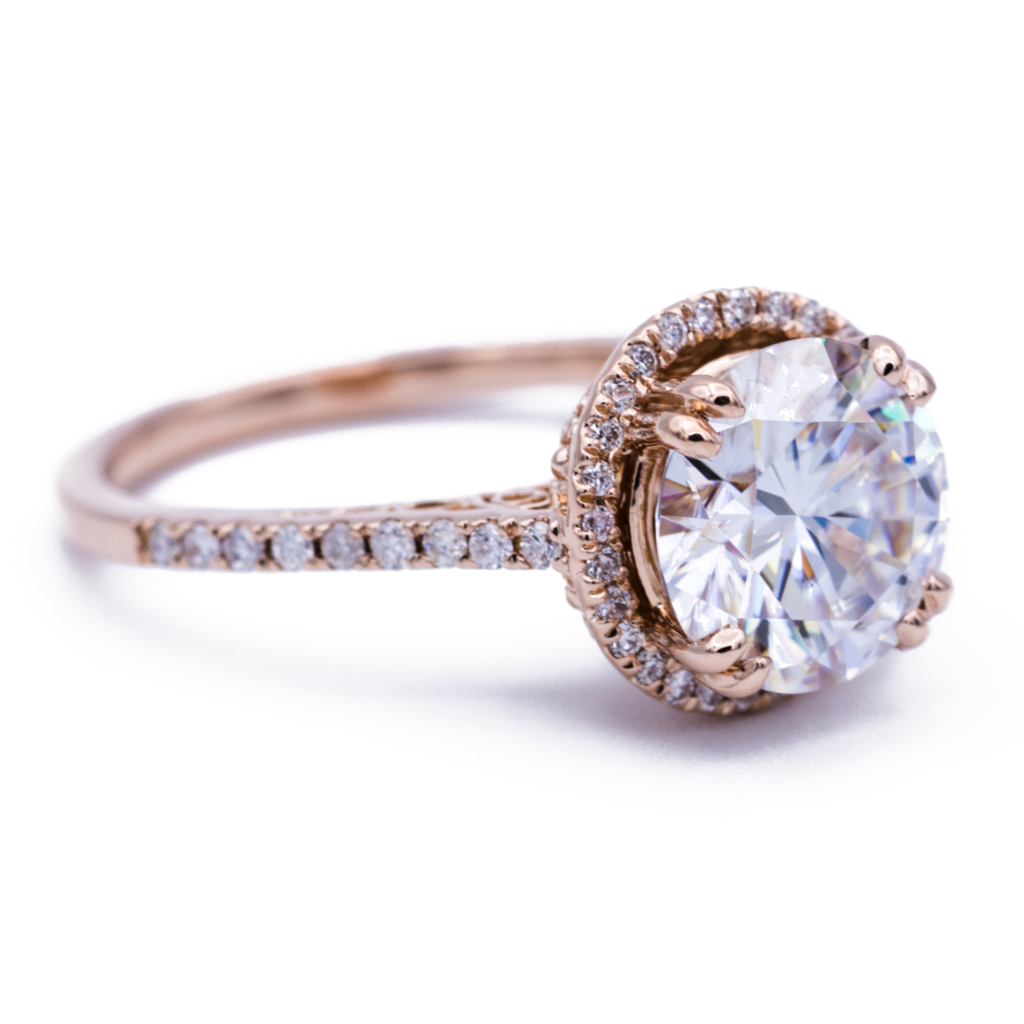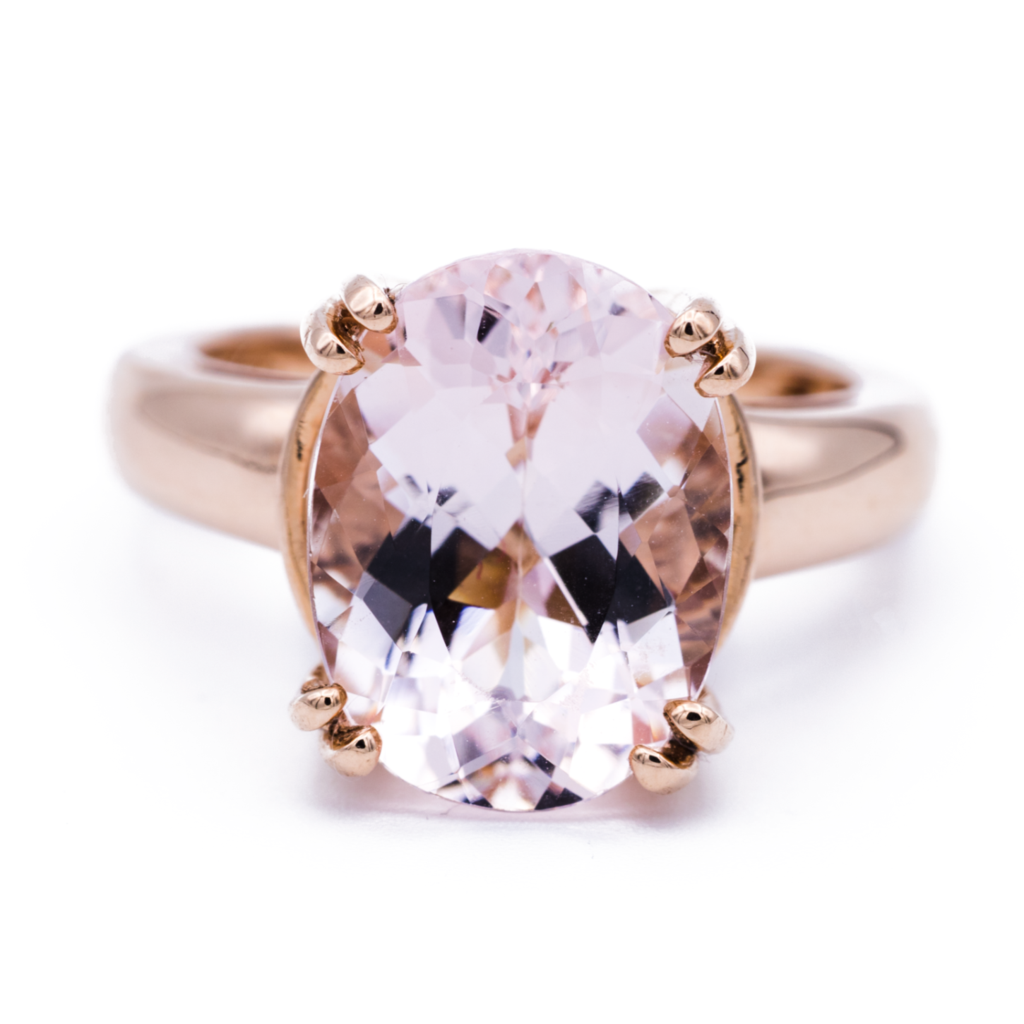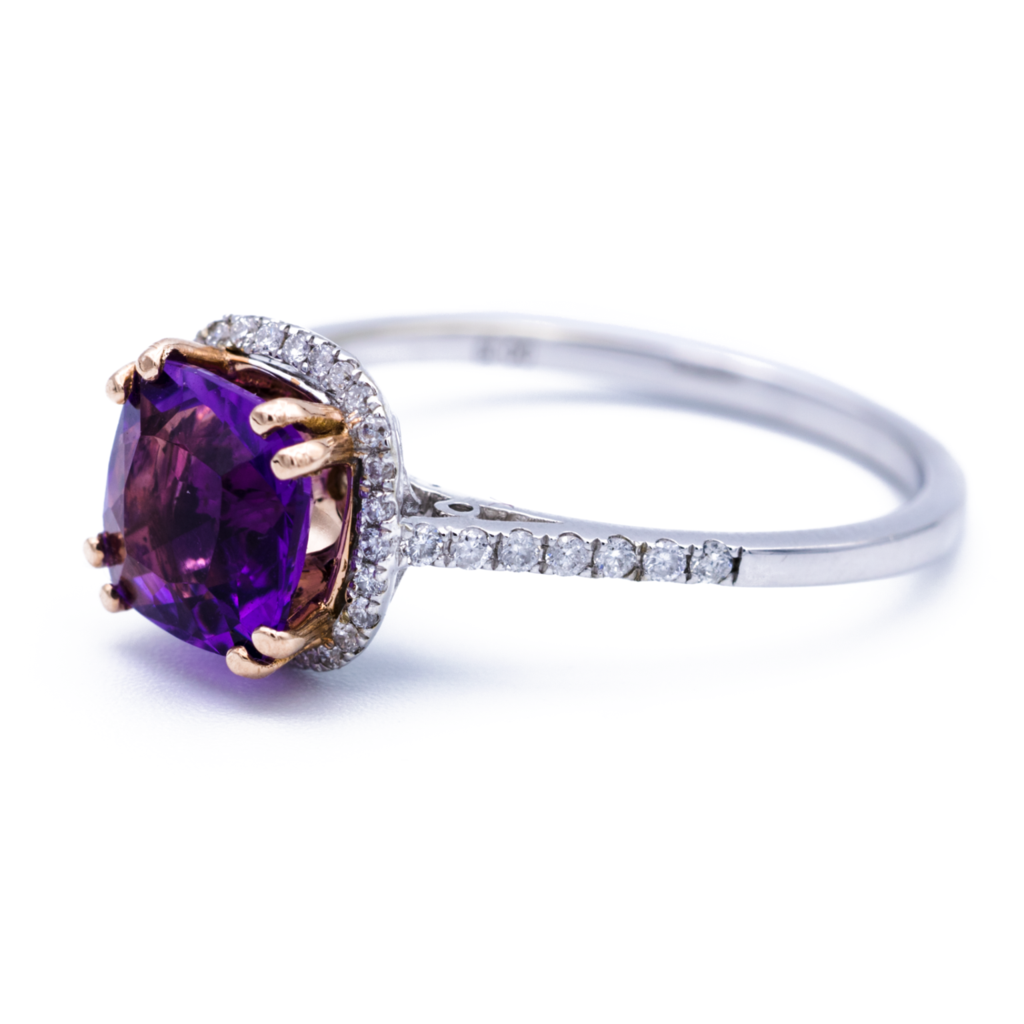 For some fun facts and further education in regard to these gem stones, please refer to the links below.


Step 2_ Selecting a Shape or Cut for Your Gemstone(s)
We believe that beauty exists in the fire and brilliance of gems in the way they are exposed under light. From since the moment we realized that this quality could somehow be enhanced in the way we frame gems, master cutters have discovered and are still discovering new methods of how to elicit the most in them.

Below, we have linked written pieces with aim to address the various shapes that gems can be fashioned into, the importance of each, and why each in their own dynamic sense would be the right one for you.
For others not yet linked, more information can be found
here
.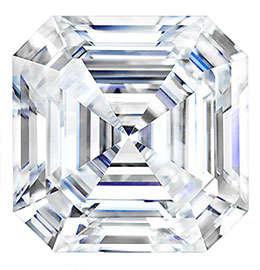 Step 3_ Choosing a Size for Your Gemstone(s)
When it comes to the size of the center stone, does it matter? Yes, but not in the way you think. The bigger it seems, the more flattering it might be on a woman, creating the illusion of daintiness or added femininity in a loved one's hand. It is also telling of how much hard-earned work and thoughtfulness went into the design. These reasons go beyond superficial measures and this is because it's all about communication. So maybe we're not just talking about size alone. Your ring will be a symbol of everlasting love, a keeper for a keeper. So really, we need to think: what does she like?
Notice that earlier we did not say "the bigger it actually is." A trend populating the Internet for some time now? Huge rocks. This doesn't only apply to diamonds, so if you were looking for a more cost efficient stone, gems fortunately come in a variety of sizes and colors. And here is how the overall design comes into play. Going big doesn't necessarily mean you have to spend big. You can opt for one of our well-loved diamond alternatives. There are also plenty of colored stone choices to make your ring really pop (see choices above). It means you can embellish to your heart's desire in the way metal is wrapped around that gorgeous rock. Also, halos can help make a smaller stone appear larger as well without taking away from the center stone, rather, are used to enhance. Another alternative is to go with less metal and opt for accent stones in your preferred setting to make the ring itself shimmer all the more.
For diamond alternatives, the jewelry industry came up with the term "diamond equivalent weight" or "DEW" as a comparison tool for measuring these gems. More about this in our
FAQ
.
Step 4_ Choosing a Precious Metal for Your Precious Moment
The standard jewelry industry's select variety of metals include 14k and 18k gold (in yellow, rose, and white), .950 palladium, .950 platinum and others by request. Although one can find beauty in metals of all kinds, you'll want to make sure that the one you have your heart set on won't be any trouble in the long run. We're talking allergies. Some metal choices are made up of other metals and chemical properties that might irritate the skin with prolonged contact. So if you or a loved one has a metal allergy and would like to know more about what goes into each, please see our blog
A Metal for Every Rock
for more details!
Additional links:
Specific Gravity, Melting Point, Or Various Metals & Alloys
Precious Metal Alloys & Their Color Groups
The higher in purity the gold, the softer and darker it will be. The lower, the harder and lighter. The hue of your metal is completely up to preference, of course, but if you're leaning more towards higher purity, it may be too soft to sustain itself from scratches or bumps and any side accent stones from getting lost. Mixed metals have more of a chance of retaining durability and design to last you for much longer. What to do? Fortunately, there is a metal out there with your name on it. Let us know if you would like our assistance.
Step 5_ Choosing Your Design Components and/or Ring Style
There are several ways in jewelry design in which designers utilize smaller details to create an ornate, bigger picture. Below, we have provided several links to consolidate the information of each ring style for your convenience.
Step 6_ Selecting the Ring Size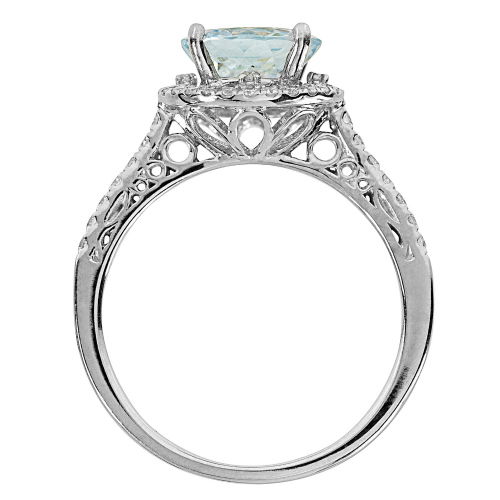 Figuring out her ring size without her knowing is no simple feat. This is why consulting one or a few of her closest friends and/or relatives, especially if they share the same physique, is our most recommended option. Borrowing a ring from her jewelry box to have it sized by a jeweler is another.

Otherwise, millennials have increasingly chosen to be more open to their partners about a proposal happening, sans the details about time and place. If in this case, finding out her ring size is a collaborative effort and you can simply obtain it by going to a local jeweler together.
Step 7_ Choosing Instead to Customize
Although the jewelry industry has a wide variety of beautiful designs in various ready-made and bespoke collections, we understand that each and every individual may have his/her own unique idea and preference of what is beautiful to them. This is when to consider customizing your own creation and who to do it with.

At Fire & Brilliance, we encourage creative thought and communicate fine jewelry concepts into reality through customization. Quality assurance in style, service, as well as in the ethically sourced all come as standard in our world. We aspire to achieve only excellence in our efforts to make your design uniquely yours, to last forevermore.

For clients looking to achieve a specific design that they have in mind, we offer a Creative Custom Design Service that allows our customers to engage with our GIA Expert Jewelry Designers to ultimately create personalized jewelry that is made with exceptional quality which can be expected to treasure for years to come.
Learn how the process works
here
.
Step 8_ Choosing a Company with Favorable Policies to Protect You
It is highly crucial when choosing a company to work with that you feel secure in knowing your needs are being prioritized. A purchase on something meant to be treasured as a symbol of undying love, precious in ways figurative and literal, may not always be within budget, which is why we believe that options to finance such expenses should be available to satisfy people of different budgets. Make sure to be placed in good, knowledgable hands such that your only concern is what kind of ring setting will get her to fall in love all over again.
F&B's Financing Options & Policies
30-Day Money Back Guarantee
Fire & Brilliance's 30-Day Money Back Guarantee allows you to shop with confidence as your satisfaction is our utmost priority. We believe that purchasing jewelry should be a fun and joyful experience. However, we also understand that it can be overwhelming due to the uncertain disposition of online shopping. We intend to calm this concern through our preventive (
Excellence Policy
) and proactive measures.
1-Year Warranty On Us
To help maintain the quality of our valued customers' jewelry, we are glad to offer our "
Shop with Confidence - F&B Warranty
." The warranty is designed to provide professional jewelry services and solutions that may be needed at a future date and time. Available to all qualified Fire & Brilliance® finished jewelry orders excluding loose stones.
Buy Now - Pay Later
Fire & Brilliance has partnered with PayPal and FuturePay to assist our valued shoppers with more accommodating and enjoyable payment solutions when shopping with us online.
Layaway 0% Program
We believe that fine jewelry should not be limited to those who can purchase it now. That is why we have set up an
innovative payment plan
to make jewelry purchases more flexible for everyone. Credit is not needed for our 0% interest-free payment program.
There are absolutely
zero interest
charges so that our valued customers can utilize this flexible spending plan with peace of mind.
Payment & Shipping
Find out which forms of payment are accepted, our shipment costs and protocols, and what each entail.
Step 9_ Inquiring with F&B
If you would like to get in contact with us about any of the above or other, you can use the form below to do so.
We aim to get back to our valued customers within the same business day (but hopefully much sooner)! You may also find the answers to your questions by checking out our
FAQ
page.
[powr-form-builder id=a06e7940_1484597161]