Loose Gemstones
Charles & Colvard Manufactured Gems
Fire & Brilliance is proud to introduce the world's very first certified Charles & Colvard moissanite gems.
We decided to hand-pick only the best moissanite stones for these grading reports. The initial step in grading these gems requires meeting specific quality standards prior to being considered as "Acceptable." The next qualifying step is to only select top-tiered gems after they are graded by PGGL leaving only the best available for sale.
If you are looking for a specific Forever One shape and size that is currently not available in our certified selections then please feel free to
message us
. We will be sure to notify you once it is restocked.
Please
message us
if you are interested in setting one of our exclusive certified Forever One moissanite stones on an F&B setting instead of using the standard Forever One stones.
Shop PGGL Certified Moissanite
Charles & Colvard Forever One moissanite is a triumph of art, science and sustained effort. The structural configuration of this new moissanite material is what yields its unsurpassed, colorless (D-E-F) quality. While chemically it is still silicon carbide (SiC), and its optical and hardness properties remain the same, it is the stacking of SiC material in the manufacturing process that makes Forever One moissanite unlike any of its predecessors.


Forever One. Available in Two Grades.


Through its research and development efforts working with Forever One, Charles & Colvard has developed a second grade of Forever One, in G-H-I quality*. This near colorless gemstone emits a faint, [cooler] hue compared to its Forever Brilliant predecessor, which yields a warm hue. [It is] also cut from this same high quality material, ensuring that no matter what Forever One grade you choose, your stone will be more brilliant than any other gemstone.


*Based on the Gemological Institute of America's diamond grading scale.
Shop C&C's Forever One Moissanite
C&C describes it as "one of the most proportionally ideal cuts available today, our expertly crafted Hearts & Arrows moissanite gemstones are unique, just like the person wearing them. 58 facets are made with the utmost precision, resulting in eight beautiful symmetrical hearts and arrows that can been seen when closely examining the gemstone with a viewer."
Shop C&C's Forever One H&A Moissanite
Better Than Diamond Amora Gems
Within a given crystal type, cutting controls 98% of the brilliance. Thus, BetterThanDiamond has devoted significant resources to modeling, cutting, designing and testing the Amora Gem cuts in order to achieve an optimal and maximal balance between the two competing goals of maximum fire and maximum brilliance for its unique optical properties. The Amora Asscher design is the final winner of a number of evaluated parameters and proportions and strikes the ultimate balance for both fire and brilliance.

Additionally, all Eternity H&A Amora Gems are cut *exclusively* by robot, an industry first. Robotic cutting enables super-human precision and incredible craftsmanship compared to hand cutting, as the robot only cuts to optimal proportions and exacting symmetry. This ensures that *every* Amora has unparalleled beauty.

Cut solely in the USA, BetterThanDiamond creates Amora Gems with technological innovation by the name of "The TIGER Robot System." With <10 micron precision, it is the world's most advanced gem cutting machine and delivers mastery in the art of gem symmetry. The state-of-the-art robotic ability to focus on the necessary detail in creating all 64 synchronized facets and vertical faceted girdle showcases the remarkable, stunning, and perfectly cut gem, Eternity H&A Amora!
Shop BTD's Eternity H&A Amora Gem
Chatham Lab-Grown Gemstones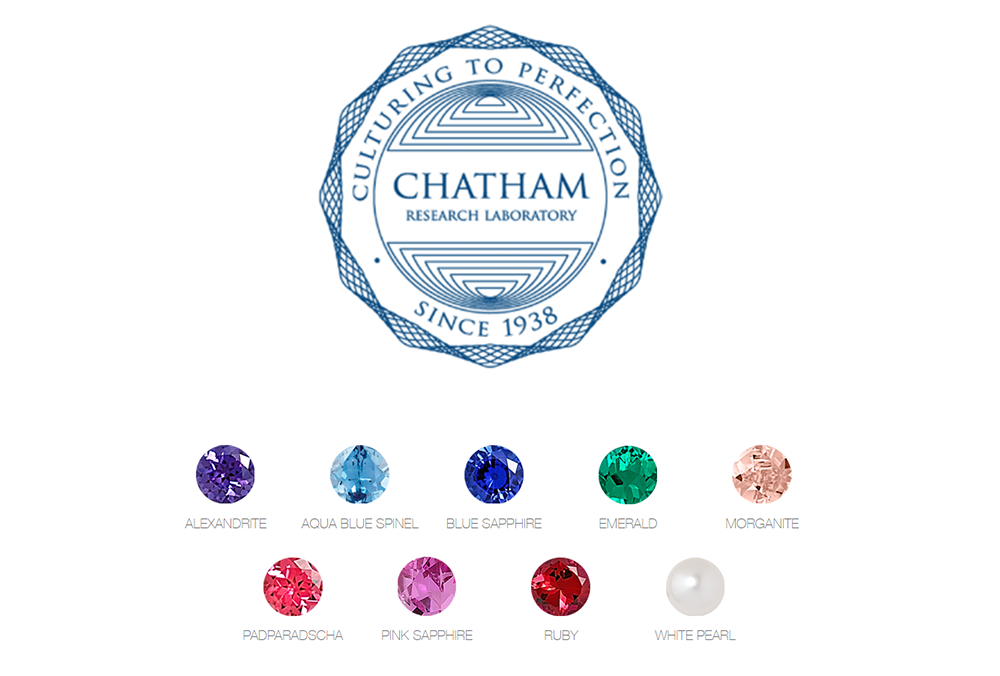 Chatham is recognized as the leader of laboratory-grown gemstones with a large selection of rubies, blue, pink, white, and yellow sapphires, emeralds, padparadscha, alexandrite, aqua blue spinel, and diamond.

Chatham does not "make" gems, rather, they control the environment so that crystals can grow naturally by recreating the conditions in which gems grow in the earth. These gemstones have the same physical, chemical, and optical properties as mined gems do. The true difference is that one is mined in nature while the other is grown in a lab.

One great benefit of owning a Chatham lab-grown gem is that it does not have the many "inclusions" that natural gemstones contain. Inclusions are known to create durability issues and may cause breakage and cavities. Less inclusions, more durability.
Shop Chatham Lab-Grown Gems