Whether you're shopping to pop the question or are looking to immortalize your love through fine art curations, or even just to own more pretty things, we are here to make the journey there a lot easier. To you, FAB Fan Loyals. you're a part of our process every part of the way and we are so very thankful. Here's to making the aesthetically appealing more personal to you one ring at a time, for years to come.

Fire & Brilliance is featured and on the news. You can check out the articles below. Enjoy!
Millennials, Moissanite, and the JCK Las Vegas Show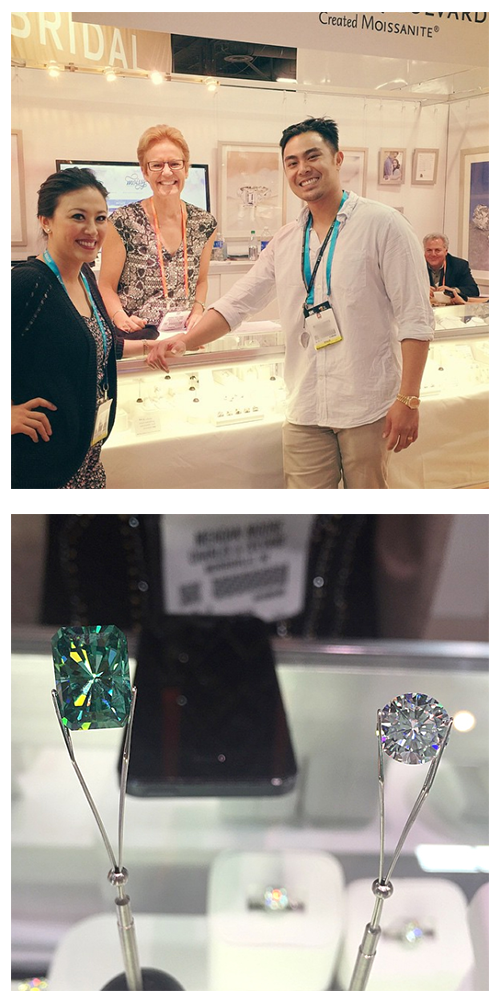 Now that millennials are becoming more sophisticated consumers, the time for lab-grown gemstones has clearly arrived. From Pure Grown Diamonds to Charles& Colvard Created Moissanite, the selection of lab-grown products has begun to change the marketplace. It's no longer a matter of if or when they will become sought after, rather, it's by whom and how.

At the Charles & Colvard booth at the recent JCK Las Vegas show, independent jewelers, e-commerce buyers, and designers were three-deep to view the new colorless moissanite set to debut this fall. Eyal Brikman of Kobelli Fine Jewelry in Los Angeles said his moissanite business is on fire. Michael and Linda Nguyen, designers of the Fire & Brilliance collection, were equally thrilled with their moissanite business.

"Oh, wow! is the first thing we heard from everyone when they saw our new gem," says Sarah Williams, vice president of marketing and branding for Charles & Colvard. "It's a game changer. If you were on the fence with moissanite, there is no reason to be now. The stone is simply magnificent. On top of that, lab-grown gems, which are considered to be socially responsible, are quickly coming into the market, and we are poised to ride this wave." Millennials, in particular, are asking for Forever Brilliant moissanite as a center stone for engagement rings. "We met numerous retailers who said their business is growing significantly due to referrals from the chain stores, which are 'walking' customers since they don't offer the option of moissanite," adds Williams.

— Kristin Young from JCK 07/02/2015
Certified Colorless Moissanite with Fire & Brilliance
F&B is featured in an article on Brides On A Mission, announcing their presentation of the world's very 1st certified C&C Forever One moissanite gems and all of the information to follow.
Why You Should Consider Moissanite With Fire & Brilliance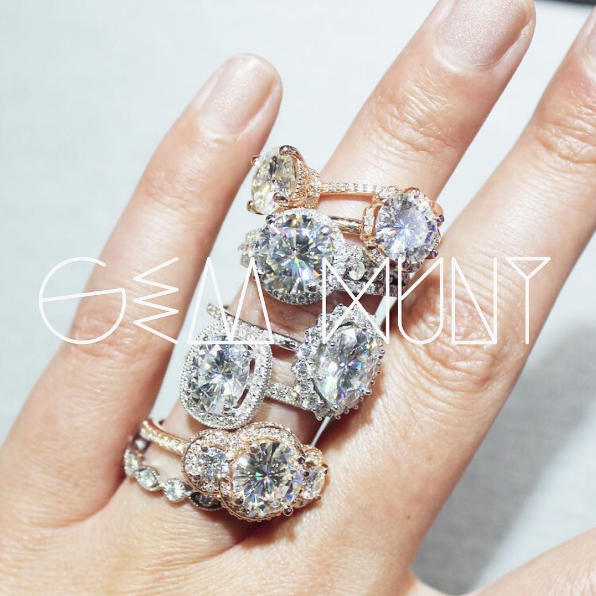 We recently had the pleasure of spending some time with the well known fine
jewelry
company
Fire & Brilliance.
They are known particularly for their Moissanite rings, but are experts in all thing diamonds and customizable jewelry. This was the first time we had seen Moissanite in action and since we walked impressed and with new knowledge - we are sharing some reasons we learned you might want to consider a Moissanite stone for your engagement ring.

You may be wondering what is with the funky name (we were). It was actually named after Nobel-Prize Winning Scientist Dr. Henri Moissan who discovered the mineral in a 50,000 year old fallen meteorite more than 100 years ago. Yes it can be earth mined too, but that is actually rarer these days than finding a diamonds so the Moissanite you see today is made in a lab.
Fire & Brilliance
actually works with
moissanite
manufactured and graded by the original creator of lab-moissanite,
Charles and Colvard
....
—
Catherine Cason of Gem Hunt 07/20/2016
Click
here
to read more of this article.
A Collaboration with Charles & Colvard
[powr-form-builder id=a06e7940_1484597161]