Whether you're shopping to pop the question or are looking to immortalize your love through fine art curations, or even just to own more pretty things, we are here to make the journey there a lot easier. To you, FAB Fan Loyals: you're a part of our process every part of the way and we are so very thankful. Here's to making the aesthetically appealing more personal to you one ring at a time, for years to come. Fire & Brilliance is featured and on the news. You can check out the articles below. Swipe, hover, or use the arrows to navigate. Enjoy!
WINDSWEPT COASTAL WEDDING INSPIRATION IN OAHU

"This stunning windswept coastal wedding shoot was captured at sunrise on the shores of Oahu by Dallas wedding photographer ALLEN TSAI who worked with Hawaii wedding florist DESIGNS BY HEMINGWAY. Inspired by the coastal blues of the Pacific ocean it features muted tones throughout the florals and styling elements.
From Debbie of DESIGNS BY HEMINGWAY; "In designing the windswept table scape, I was inspired by the colour palettes of the ocean and a beautiful silk table runner from Silk and Willow. The coastal blues were a nice complement to the natural tones of textured bleached ferns, fan coral, lunaria and fresh florals of muted golden mustard garden roses & creme orchids that I designed into a lush oversized coastal garland draping off the table. The pretty stationery and menu cards from THEO BERRY STATIONERY, were simply gorgeous textures adding one more coastal element to the table. The beautiful CAROL HANNAH dress was sewn with layers and layers of white silk chiffon trailing into the wind down the beach as the bride strolled among the lava rocks and sand. I'm also in love with the delicate gold wire and crystal head crown from NOON ON THE MOON!"

How to Have an Elegant Rustic Barn Wedding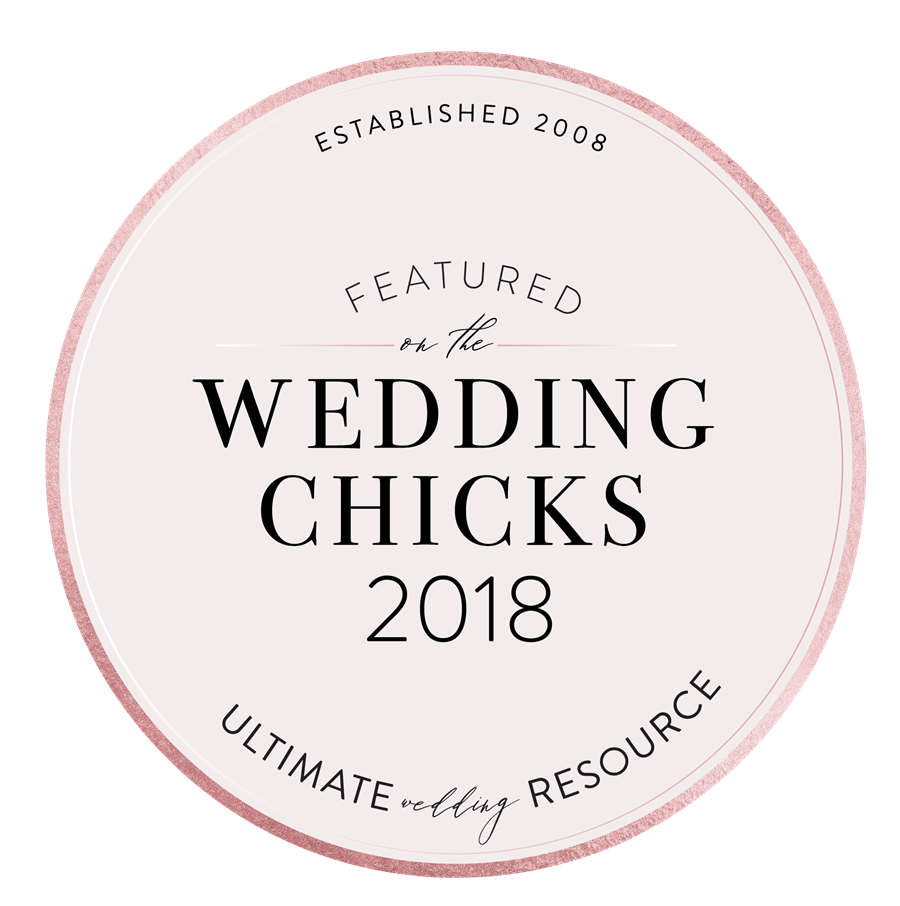 "The rich history of The Barns at Cooper Molera in Monterey, California is really what makes this wedding inspiration from Events By Classic shine! The picture perfect setting was ideal for the elegant + rustic wedding inspiration you're about to see captured by De Joy Photography.
Pops of fuchsia and market lighting added an elegant touch throughout the over 190-year-old venue (damn, if those walls could talk!) We're sending a huge shout out to all the super talented team of vendors who brought this elegant vision to life, so be sure to show them some love below, then catch every last detail in the full gallery."

WeddingWire 2019 Couples' Choice Award®
"This award recognizes your commitment to quality, service, responsiveness, and professionalism.The Couples' Choice Awards® honor the exemplary work you've done over the past year and the highly regarded reputation you've established withyour clients."

Styled Shoot: African American Beauties Riding Black Stallions (CA)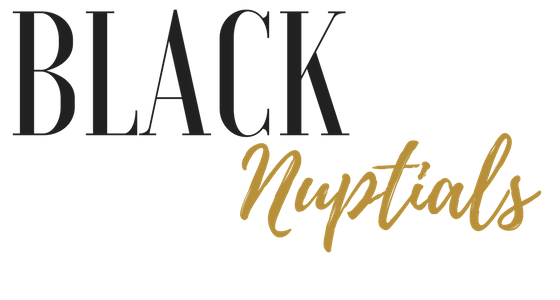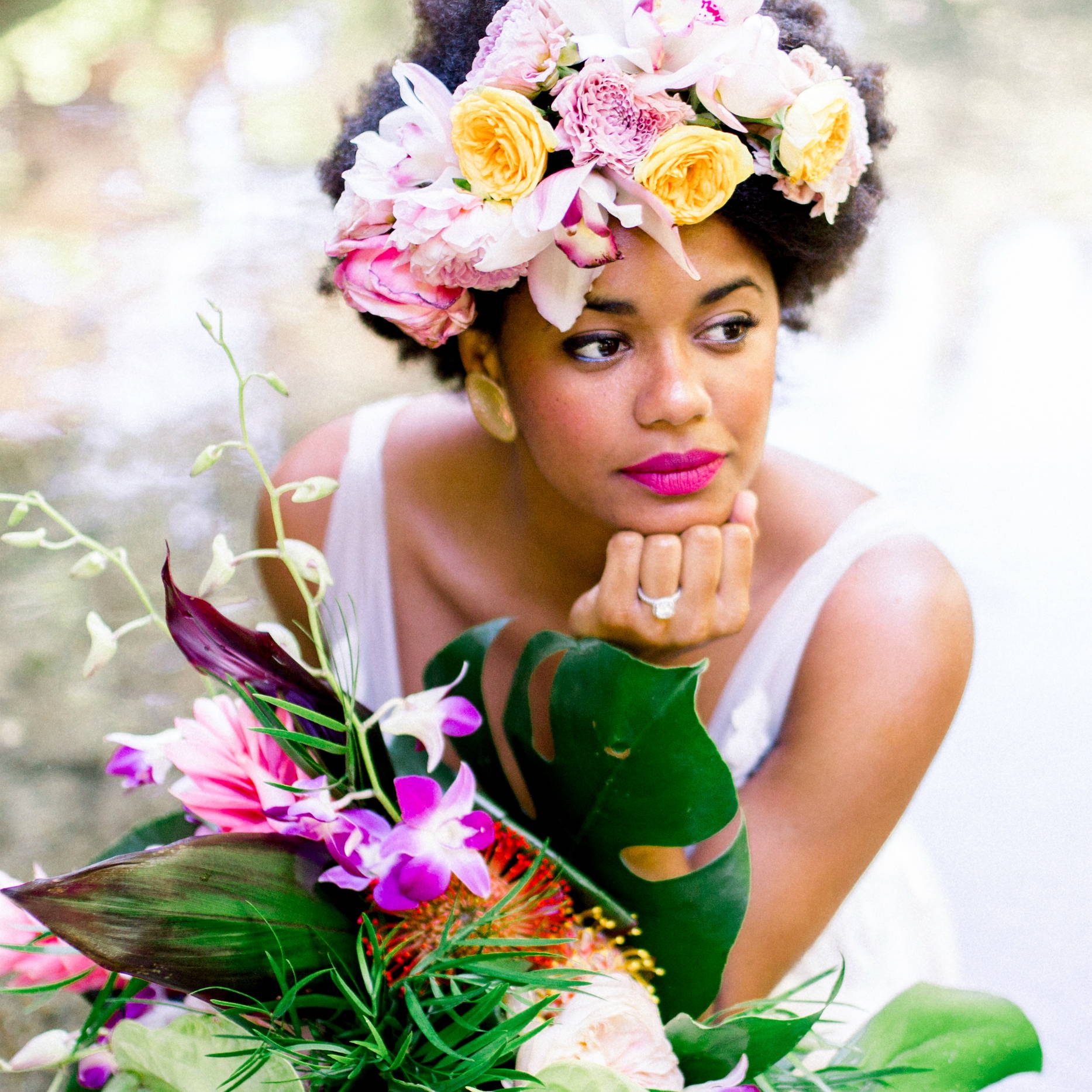 "Get inspired and check out all this #blackgirlmagic, enjoying the California coast with gorgeous stallions, as beautifully captured by De Joy Photography."
Location: Davenport, CA | Event Date: June 07, 2018 | Event Venue: Shark Fin Cove | Floral Designer: Autumn's Blossoms | Beauty: Beauty by M | Other: Ramirez Spanish Horses | Model: Brittany Janae | Model: Antonia Garcia Balbuena | Jewelry: Fire & Brilliance | Dress Store: Epiphany Bridal Boutique | Photographer: De Joy Photography

Whimsical Pink & Turquoise Wedding Inspiration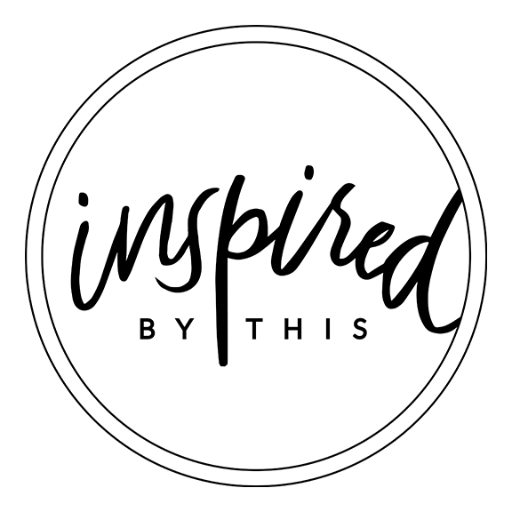 "If you're not afraid of color, you'll love this whimsical pink and turquoise wedding inspiration. From the florals to the balloons to the comfy lounges, the decor truly pops. It's youthful and fun, snd yet, somehow, the vendor team was able to achieve an air of elegance. Now, that's impressive. We love the combination of classic style and modern touches. Together, they create plenty of 'ooo's', 'ahhh's' and 'wow' moments..."

Emerald and Jade | San francisco Mint Wedding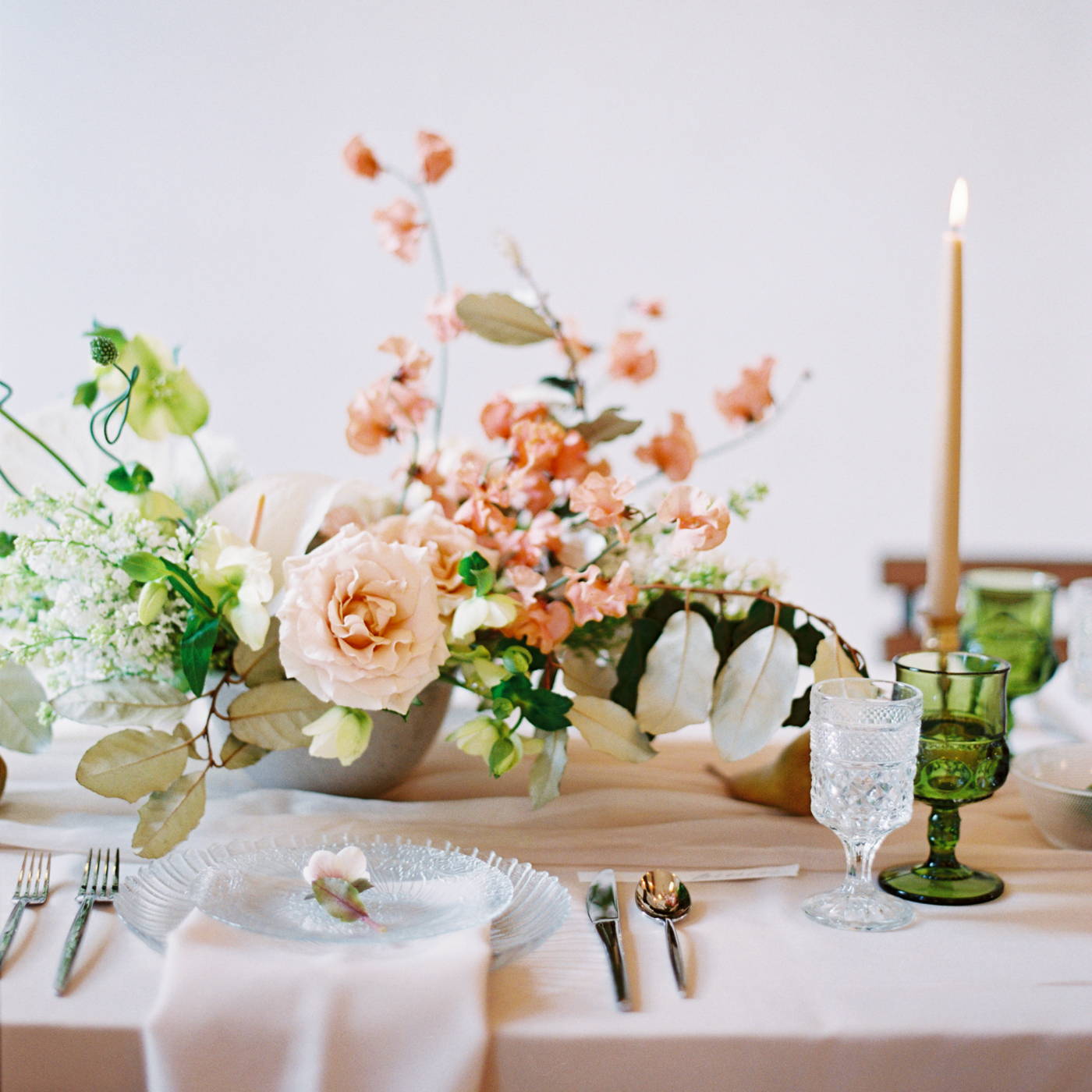 One of our fancy solitaires was set with dark emerald green radiant cut moissanite and was the engagement ring spotted in this gorgeous article by The Bridal Theory.

"If it's lucky to put a sixpence in your shoe on your wedding day, how much more lucky is it to say "I do" in a MINT! The San Francisco Mint makes a beautiful backdrop for a timeless wedding day. New Favorite Day Event Planning and a talented team of creatives from across the country came together to create beautiful possibilities for the historic space. Rich emerald and soft jade tones make for a beautiful pop of color against the old stone and woodwork of the San Francisco Mint. The vintage brass elements through the San Francisco Mint pairs beautifully with the green tones and neutral elements of the design..."

Styled Chateau Partage Fairytale Wedding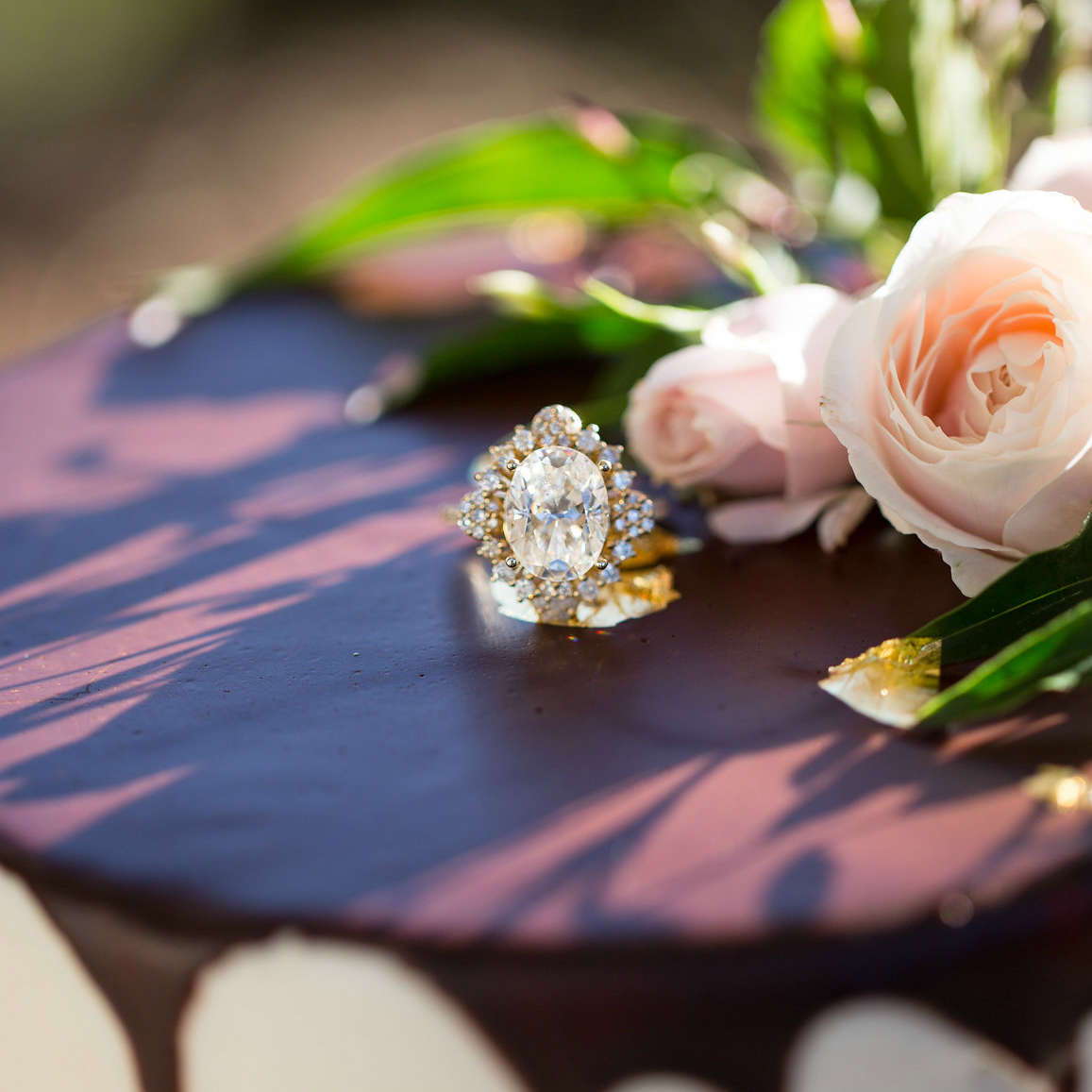 "Almost all the classic fairytales end where the real romance begins; the moment where the charming prince and beautiful princess surpass all obstacles and challenges to finally kiss as the story comes to a close. We cherish and retell the same fables many times over, idolizing the furious and sometimes dangerous romances that bring two soul mates together. As little girls and boys we hold these stories as fantasy, moments that couldn't possibly belong to anyone other than royalty. But when you finally meet your prince or princess you realize that dreams can come true and, if you wish, anything is possible on your wedding day..."
Modern Vintage Wedding Inspiration at Gardener Ranch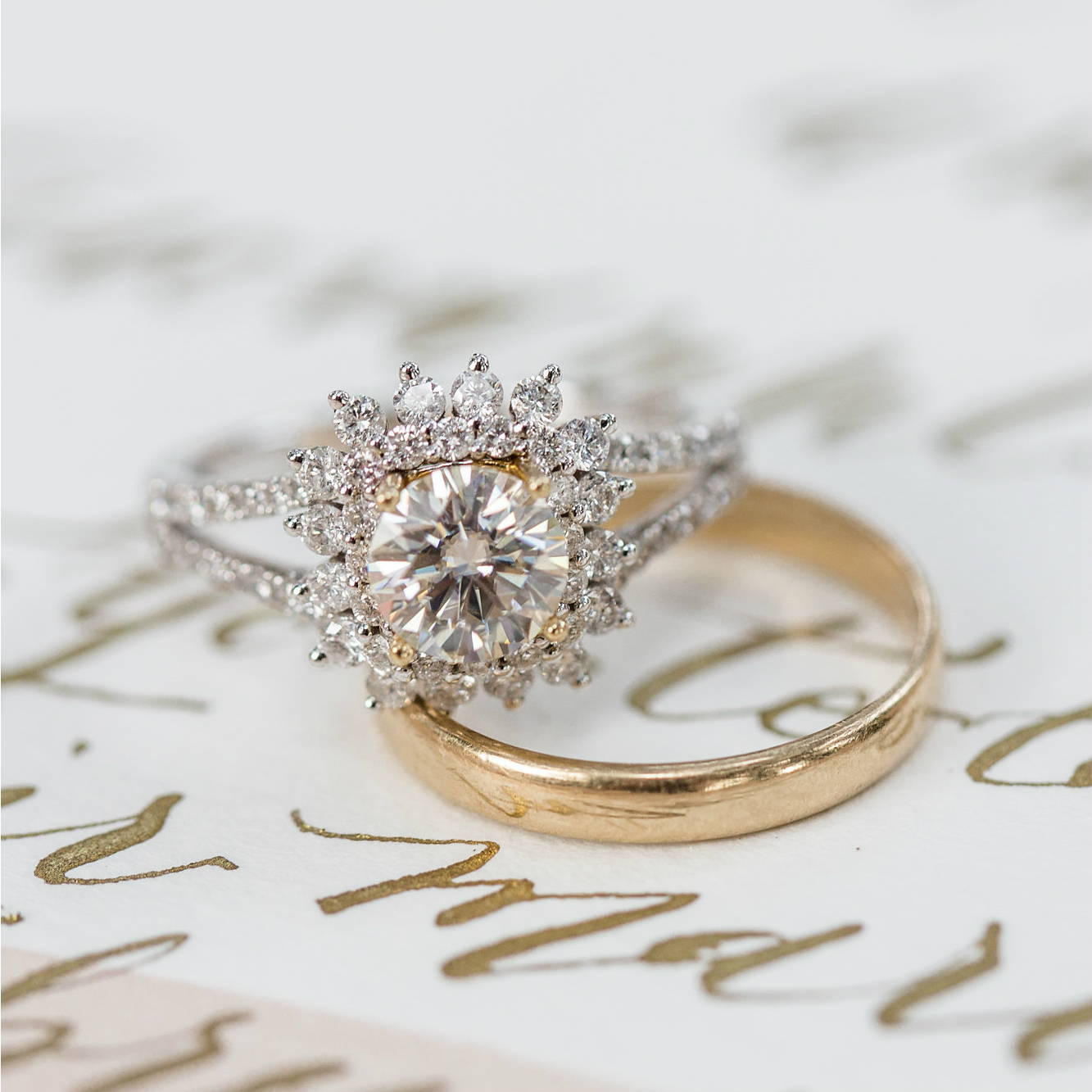 "Get ready to fall into some serious puppy LOVE. This next shoot from De Joy Photography + a team of uber-talented vendors brought this modern vintage wedding inspiration together at Gardener Ranch, and then filled it with the cutest pups imaginable.It's true, puppies can brighten even the darkest of days. But this wedding inspiration can definitely hold its own. From the copper circle arch adorned with florals to the petite dessert bar, and all the blush and white elements in-between, you'll definitely want to pin this for later. Read more about the design below, and click on the full gallery for more puppies!"

Bring on the Romance with this Dream Sunset Wedding Inspiration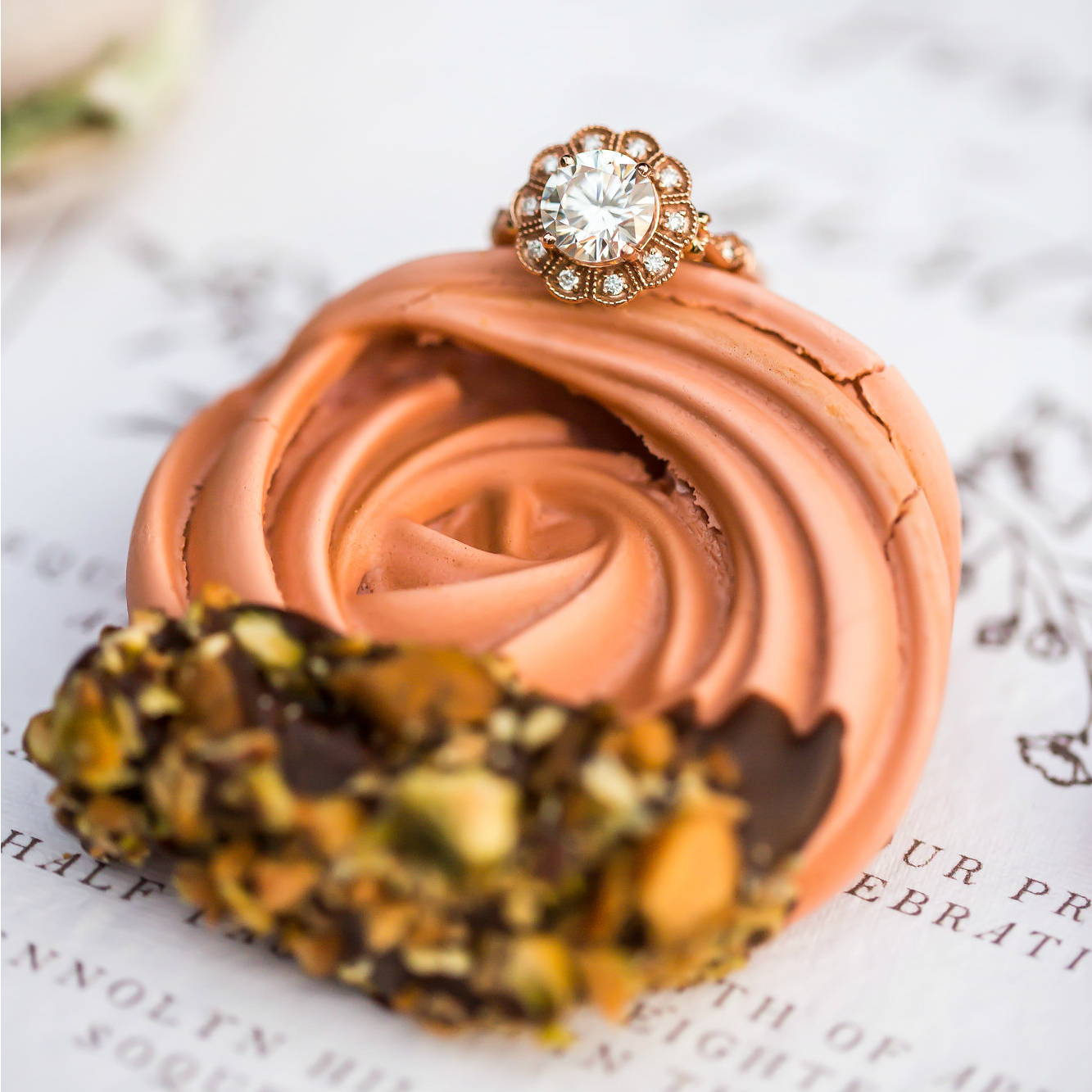 "Few things are as romantic as experiencing a beautiful sunset with the one you love, and that's what makes this next wedding inspiration from De Joy Photography and View Point Events so over-the-top stunning. To set the stage for the perfect wedding, they first needed the perfect location so they chose the picturesque Santa Cruz Mountains to feature this sunset-inspired love story.With views for days and a group of talented vendors, this boho wedding inspiration came to life in so many beautiful ways. From the bold and bright blooms to the decadent dessert spread, they paid attention to each and every detail to create this memorable wedding inspiration. View this sunset-inspired wedding here."

Happy Summer Time Wedding Inspiration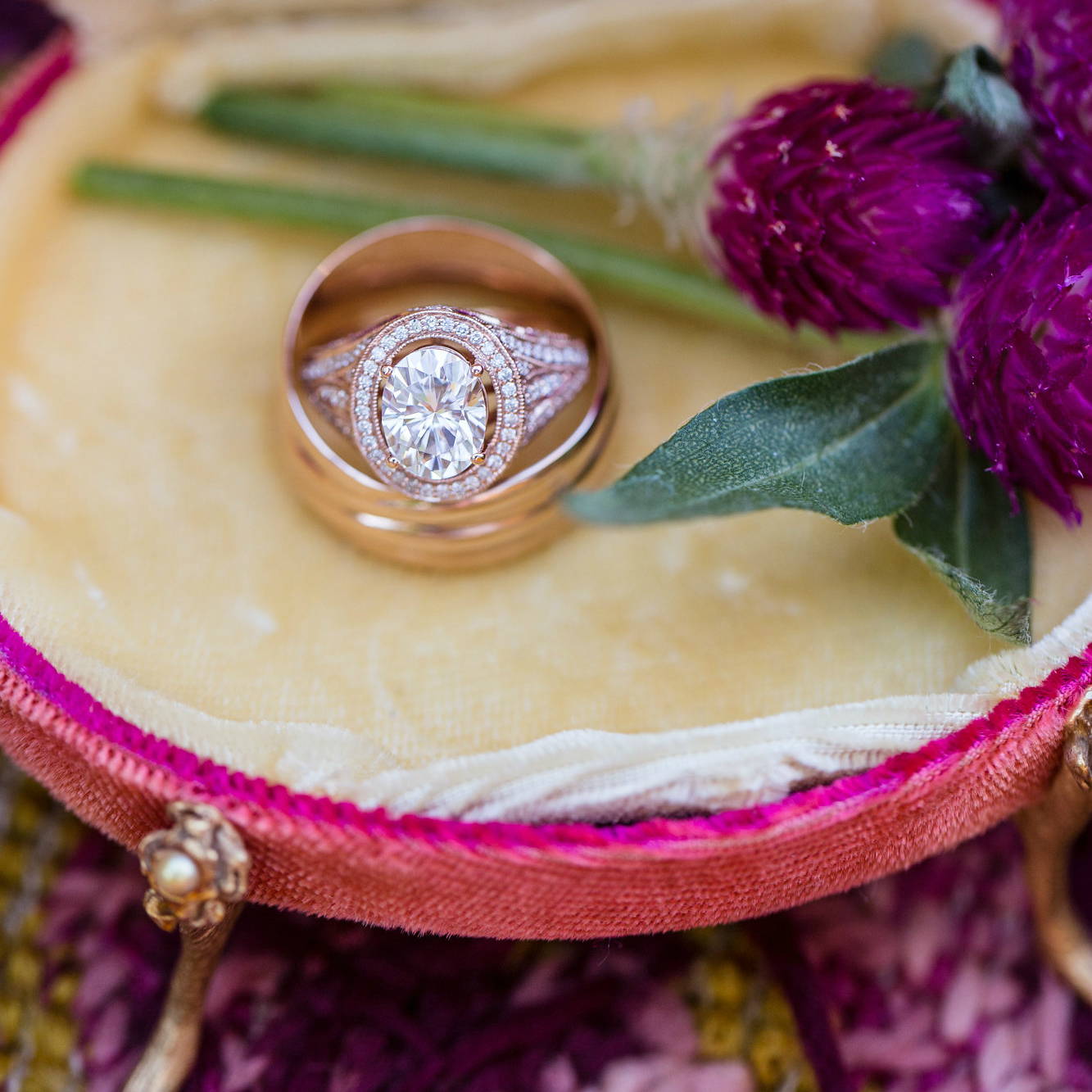 "As we hunker down bracing for 2018's bomb cyclone and deep freeze, perhaps a bit of sunshine will warm the day! We have just the happy summer time wedding inspiration that will spark the warmth needed to get through this winter spell. We are talking pops of color and a theme of 1967's Summer of Love that exemplifies the ideals of peace, community and love for an entire generation captured by De Joy Photography. This little summer sesh of beauty at The Holly Farm honors an entire movement we still feel today through music, culture and many every day aspects of our lives. Get ready to bask in vibrant prettiness and soak up the talent displayed by Big Sur Flowers, Amanda Tempest, Revival Vintage Rentals and Tart and Tin to name a few..."

These Trendy Moissanite Engagement Rings Will Take Your Breath Away
"Whether you're looking for a nontraditional stone, a socially conscious ring, or a larger cut within your budget, there's a reason moissanite engagement rings are the latest trend.
Instead of the traditional diamond, many couples are opting for this mineral that was originally discovered in a meteor crater and now mainly produced in labs. Unlike diamonds, a moissanite stone isn't graded on color, but often has a more yellow or grayish hue and can be perceived as more vibrant than the beloved gemstone. Moissanites are also considered more brilliant than diamonds because they disperse less light and also sparkle longer because they don't attract as much dirt.
...Let these jaw-dropping moissanite rings ahead inspire you!"

Friday "Rocks"! Featuring Fire & Brilliance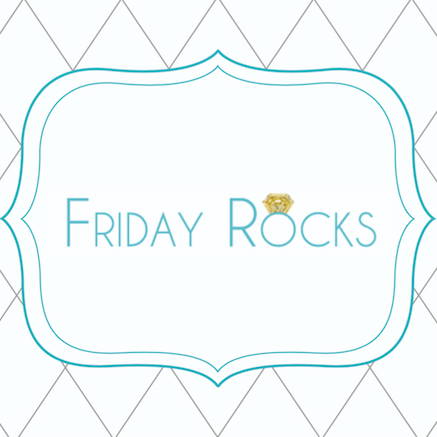 "Happy Friday to everyone! I am so excited to share today's post featuring stunning engagement rings from Fire & Brilliance! I am blown away by the incredible detailing and craftsmanship… each one created with the perfect blend of elegance and boldness! I absolutely love these rings, check them out!!!"
- Becca of The Yes Girls Events on 03/24/2017

Why You Should Consider Moissanite With Fire & Brilliance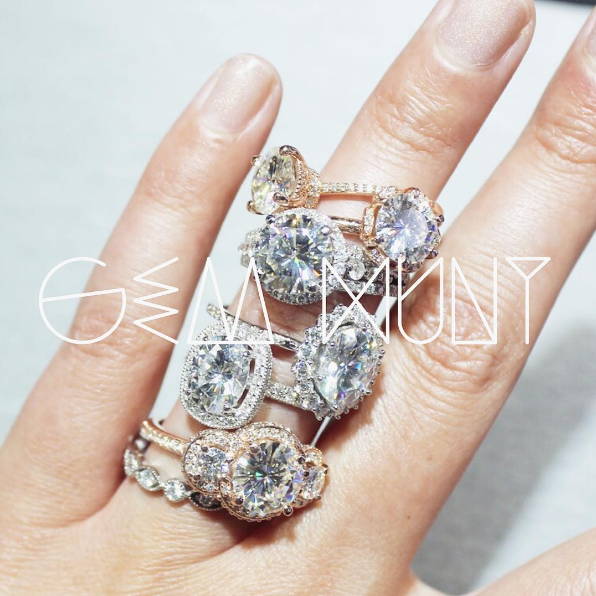 "We recently had the pleasure of spending some time with the well known fine jewelry company Fire & Brilliance. They are known particularly for their Moissanite rings, but are experts in all thing diamonds and customizable jewelry. This was the first time we had seen Moissanite in action and since we walked impressed and with new knowledge - we are sharing some reasons we learned you might want to consider a Moissanite stone for your engagement ring.
You may be wondering what is with the funky name (we were). It was actually named after Nobel-Prize Winning Scientist Dr. Henri Moissan who discovered the mineral in a 50,000 year old fallen meteorite more than 100 years ago. Yes it can be earth mined too, but that is actually rarer these days than finding a diamonds so the Moissanite you see today is made in a lab. Fire & Brilliance actually works with moissanite manufactured and graded by the original creator of lab-moissanite, Charles and Colvard..."
— Catherine Cason of Gem Hunt 07/20/2016


Certified Colorless Moissanite with Fire & Brilliance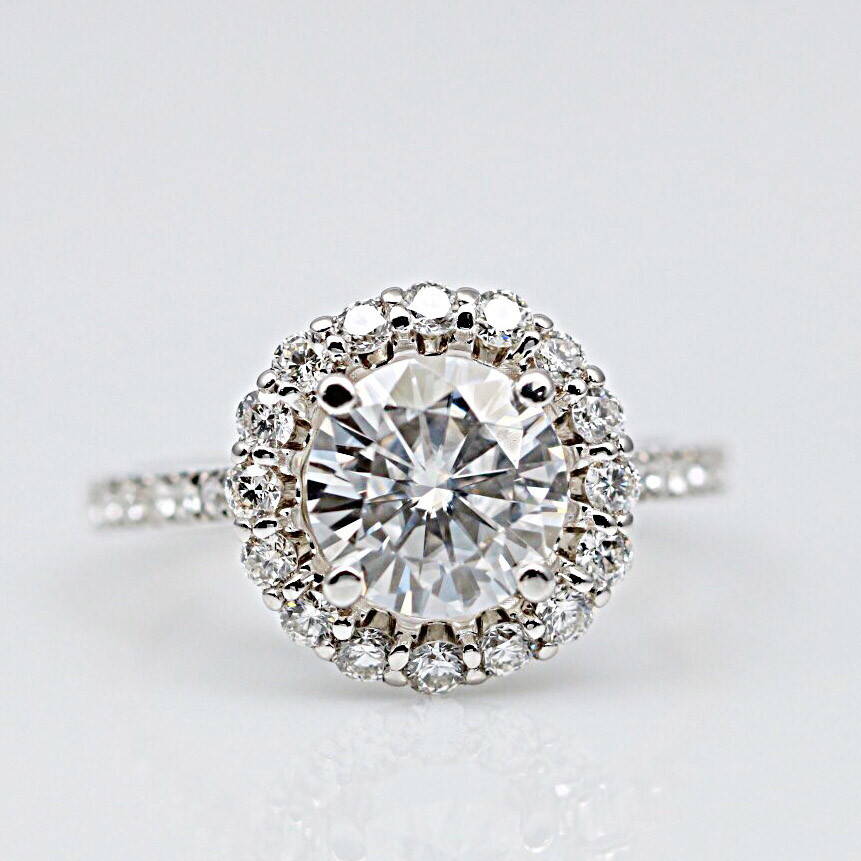 "In recent news, Michael Nguyen, Founder of Custom Jewelry Company Fire & Brilliance, has teamed up with David Gendal, Head of Mostly Moissanite Inc. to introduce the world's very first certified Charles & Colvard (C&C) Forever One moissanite gems!
These Charles & Colvard moissanite gems created in the heart of Raleigh, North Carolina are certified by a 3rd party diamond and gems grading company called Precision Gem Grading Laboratory (PGGL). Utilizing the latest state-of-the-art technologies made for jewelry, PGGL is able to provide a very detailed laboratory grading report for each moissanite gem to ensure that the characteristic descriptions are specific to that stone's individual quality.
The 'Moissanite Jewel Grading Certificate' provides thorough information similar to that of diamond grading reports, such as: "Color, Clarity, and Carat Weight." It also includes the stone's exact dimensions, measurements, crown angles, girdle thickness, polish, symmetry, and fluorescence grade. The guarantee of such is the defining difference between uncertified and certified moissanite stones."

Millennials, Moissanite, and the JCK Las Vegas Show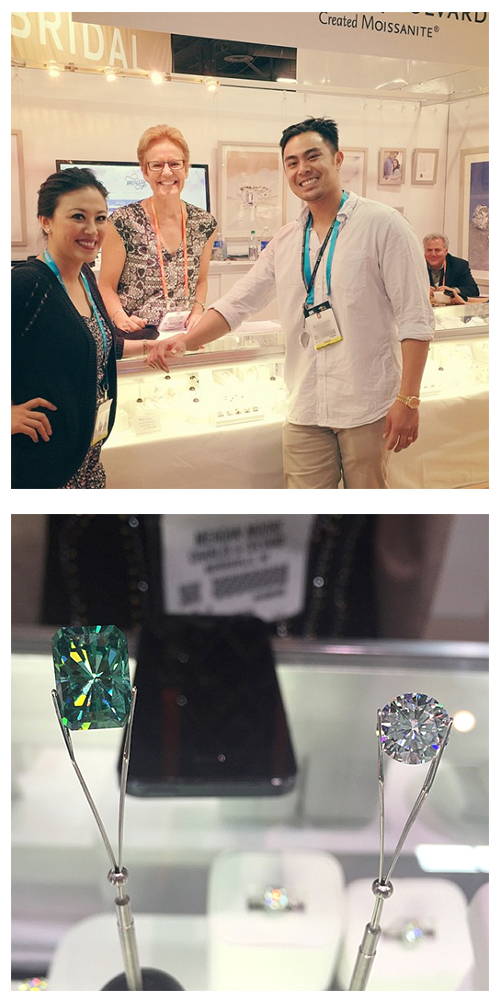 Now that millennials are becoming more sophisticated consumers, the time for lab-grown gemstones has clearly arrived. From Pure Grown Diamonds to Charles& Colvard Created Moissanite, the selection of lab-grown products has begun to change the marketplace. It's no longer a matter of if or when they will become sought after, rather, it's by whom and how.
At the Charles & Colvard booth at the recent JCK Las Vegas show, independent jewelers, e-commerce buyers, and designers were three-deep to view the new colorless moissanite set to debut this fall. Eyal Brikman of Kobelli Fine Jewelry in Los Angeles said his moissanite business is on fire. Michael and Linda Nguyen, designers of the Fire & Brilliance collection, were equally thrilled with their moissanite business.
"Oh, wow! is the first thing we heard from everyone when they saw our new gem," says Sarah Williams, vice president of marketing and branding for Charles & Colvard. "It's a game changer. If you were on the fence with moissanite, there is no reason to be now. The stone is simply magnificent. On top of that, lab-grown gems, which are considered to be socially responsible, are quickly coming into the market, and we are poised to ride this wave." Millennials, in particular, are asking for Forever Brilliant moissanite as a center stone for engagement rings. "We met numerous retailers who said their business is growing significantly due to referrals from the chain stores, which are 'walking' customers since they don't offer the option of moissanite," adds Williams.
— Kristin Young from JCK 07/02/2015